Creating a Public Garden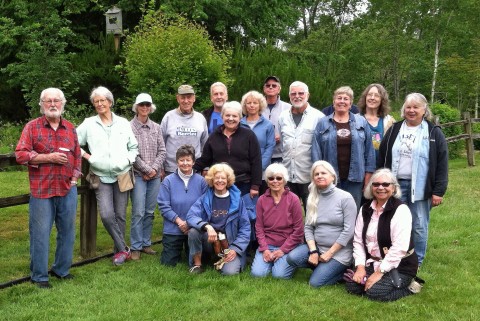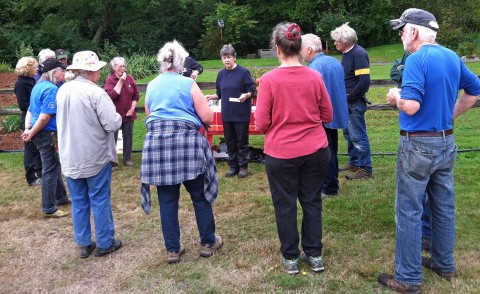 Coming Events
The First Work Party of 2018!
What Does It Take to Make a Public Garden?
Creating a public garden is much like creating a home garden, only on a larger scale. You start with a garden design, amend poor soil, and make water available, then you plant, feed, weed, prune, mulch and sometimes deal with pests and disease. For the last 10 years, all of this has taken place in the Buck Lake Native Plant Garden, resulting in the creation of a beautiful, serene and educational addition to our community. Our mission is to be a resource for learning about native plants. Our hope is to encourage individuals to use native plants in their own home gardens.
About 25 volunteers work in the garden from April through October. In 2017 they donated nearly 500 hours of time. Many others in our community support the BLNPG with tax deductible donations, either given through the Greater Hansville Community Center or directly to the garden. The GHCC, as well as local garden clubs and the Kitsap County Master Garden Foundation, have supported the garden with grants and matching funds. Whether your personal "gift" comes in the form of volunteer labor or financial support, it is important to the garden and very much appreciated.
Over the years, donations have gone toward excavation, sprinkler system installation, graveling garden paths, purchasing plants and mulch and installing plant identification markers. In 2018, we plan on expanding our plantings, maintaining our existing ones and installing more plant identification. Your continued donations will make these and future projects possible.
Please, visit the BLNPG this year to see how to using native plants in your garden can provide sustainable beauty and attract wildlife. Consider joining us to have a good time, learn about gardening with natives and connect with other gardeners. Our work party schedule is listed here; come for an hour or stay for three. You can join us once or become a regular volunteer.
.